Pearl Masterworcks is a drum set used by Will Hunt. It's a matte black; gloss black hardware type.
Drum Parts
Edit
1.
26" X 26" Bass Drum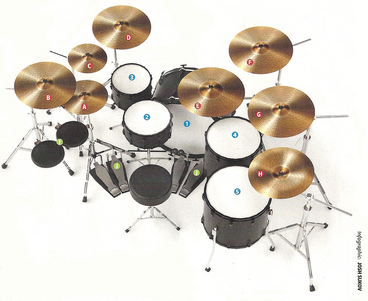 2. 14" X 6.5" Reference or Ultra-Cast Snare

3. 12" X 9" Tom(montato su supporto)

4. 16" X 16" Floor Tom 5. 18" X 16" Floor Tom
Cymbals: Zildjian Z3

A. 14" Hi-Hat

B. 18" Medium Crash

C. 12" Splash

D. 18" Rock Crash

E. 21" Mega Bell Ride

F. 19" Medium Crash

G. 19" Thrash Ride

H. 18" China
Electronics: Roland

I. PD-8 Pad

J. FD-8 Pedal
Will also use Pearl 1000 series hardware, Pearl Eliminator double pedal, and Pearl Redbox module, Pintech triggers, Remo heads, and Vater Virgil Domati Assault sticks.
Ad blocker interference detected!
Wikia is a free-to-use site that makes money from advertising. We have a modified experience for viewers using ad blockers

Wikia is not accessible if you've made further modifications. Remove the custom ad blocker rule(s) and the page will load as expected.