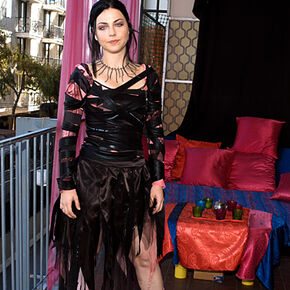 Amy Lee
designed the dress, called "The Princess Corpse Dress", that she wore at the 2004 Grammys and H. Naoto, a well known Japanese designer, made the dress. The two had met in Tokyo for a magazine photoshop not much time before the making of the dress. The pink and black outfit also includes twigs dipped in metal. Victory never looked so good.
Ad blocker interference detected!
Wikia is a free-to-use site that makes money from advertising. We have a modified experience for viewers using ad blockers

Wikia is not accessible if you've made further modifications. Remove the custom ad blocker rule(s) and the page will load as expected.